We've been around the block. A few times.
Originally founded as Kaidok Technologies in 1999, HostDango perpetuates a level of excellence our customers have grown accustomed to over the years. Our professionalism coupled with superb technology rivals any of the mega-hosts. One of the countless things you'll notice that differs is our attention to detail when it comes to customer service. Don't take our word on it, take us for a spin! You won't be disappointed.
Reliable, Fast Hardware
With strict life-cycle management policies in place, you're never on old hardware. It's always young, always fresh, and always awesome!
High Performance
Like a rocket ship or a speeding bullet, we believe more speed is better. Our servers are never over-stuffed, never struggling, and don't know the meaning of the word "slow". We have always taken great pride in the fact that we do not allow physical resources to become a traffic jam on your information super highway!
What we do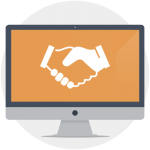 EPIC Web Hosting with EPIC Support
For the past 22 years, and counting, we've been offering reliable, epic hosting to a steadily growing number of short-term clients who, many of which, have turned into long-term friends. We come from a small town and relationships have always been important to us. Getting to know our customer base and their specific needs for their specific sites has allowed us to offer support you just don't find in the big-box hosts who are inclined to treat you more like a number than a person.

EPIC Means Being Equipped
Limits suck, so, as of today, we are offering unmetered bandwidth for all shared hosting packages, as well as some of our reseller packages! We've also added some awesome services we think you'll like. For example: Weebly web site builder, OX App Suite email, tasks, and calendar, SpamExperts anti-spam protection, SiteLock security and anti-malware, SiteLock VPN, CodeGuard web site backup and protection and more. We're always adding tools to equip you because your success means our success.
Why Choose Us?

Reliability, Speed and Security
Reliability? Check. Speed? Check. Security? Check! Your journey awaits!

Lifecycle Controls
Strict lifecycle controls in place to make sure your hardware is fresh, ready, and awesome!

Easy Knowledge Base
We have a built-in knowledge base that is always evolving and always growing so the answer is a click away!

Free Web Tools & Applications
We provide tools and applications guaranteed to enable your success with every web site you have with us!

24/7 EPIC Support
Day. Night. Holidays. We're here for you by phone, email, ticket, and chat. Reach out! You won't be disappointed!

SSD VPS
Our high-value SSD virtual servers are fast to deploy and fast to use. Starting at $10/month, you canNOT go wrong!
HostDango has been a great partner to my web development business. I don't have to worry about not having the right tools or the right access to serve my clients – just get them set up with HostDango and it's smooth sailing!
- Asulon -
asulon.com
I've been a HostDango customer for 5+ years, and I can honestly say, I wouldn't want to be with any other host company. HostDango offers reliable hosting while providing exceptional (and fast!) customer service (they don't leave you hanging like the other guys do!). I highly recommend them!"
Megan Ancheta
Allergy Free Alaska, LLC
- Allergy Free Alaska -
allergyfreealaska.com
For the past 19 years I have been a customer of HostDango.com, and a very satisfied one at that! Unlike other web hosting services I had used in the past, when I have a question/comment/issue there is always a real person there to answer me in a patient and courteous manner. That means so much to me. Their site is very user friendly as well as easy access to my account and other relative information. In a time where the mantra, "you get what you pay for", is heard around the globe, it is refreshing to know that with HostDango.com, you get a lot more.
- Emerald Isle -
emisle.com
I have been hosting WordPress websites with HostDango since 2013. I first came to Dango because of my dissatisfaction with some of the name brand hosting companies. I started with a small bundle and now have nearly 50 web sites hosted as a reseller with Dango. The staff at Dango is always friendly, helpful, knowledgeable and I get personalized service. I trust them, and they trust me. You won't get the kind of support I receive anywhere else. AND their pricing simply cannot be beat. Thanks Dango!
- Duane Bentzen -
duanebentzen.com
HostDango has been amazing in its services provided to us. The tools are easy to use and the connection speed is very fast. Manually integrating our software for a professional blog, wiki, and bug tracking software has been extremely easy and virtually painless. HostDango's support has been phenomenal and very helpful.
- Shipwreck Game Studio -
shipwreckgamestudio.com